July 11th, 2017
In fine art a gesture is an expressive mark derived from an impulse and captured with media, such as ink on paper. The computer complicates that process by making the artist think instead of respond to impulses, so making a satisfying gesture has been a bit challenging. Creating an expressive line in Photoshop with a stylus is the obvious choice, but an interesting result requires a lot of preparation and editing, and is therefore no longer an impulse.

Early in my exploration process I laid down a black cloth then made gestures by pouring salt, and then photographed it. This process evolved into making gestures in sand at the beach under strong sunlight. Then one rainy day I struck upon the idea of substituting a scanner for the sand.

My scanned gesture work is made entirely from fingerprints, using hand movements captured on a scanner. The scanner records an artifact of my movement in a scan. From the scan, I manipulate organic lines and shapes often working with shapes that aren't immediately apparent. The resulting image with distorted fingerprints is shown here with interesting selections isolated from the background. The next step is to create some motifs assembled from these scan selections.

I enjoy what technology can bring to my creative process, and believe limitations are liberating because more attention is focused on what remains. The closer you look, the more you see... and you never know what you will find.


July 10th, 2017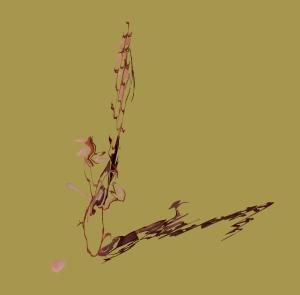 Wabi-Sabi is a Japanese aesthetic which features impermanence and imperfection. A western interpretation could be rustic elegance. Although wabi-sabi is much more than an aesthetic, it is mysterious and difficult to define. Accord ing to Leonard Koren, author of Wabi-Sabi for Artists, Designers, Poets & Philosophers, "wabi- sabi can in its fullest expression be a way of life." (Stone Bridge Press, Berkeley). Ikebana is the Japanese art of flower arranging, which westerners might interpret as understated elegance.
I find many ikebana arrangements stark and simple, yet rich and beautiful. Presented more for contemplation than filling a room with scent and color, they often invoke a somber mood with a touch of reverence. In art wabi-sabi presents a vehicle for staying in the moment, with a willing release of perfection and complete acceptance of the result.

All of the work in this series came from the first two versions of Wabi-Sabi Ikebana, which were repeatedly layered and distorted in different ways to create new versions. With over 200 images in the series, it is impossible to show everything. I like to work with several files open at once, sharing information between them. The pieces evolve both independently and in unison with each other. Another tactic I take at times is to open an older piece of artwork and combine it in some way with something else, which also happened with this series. A larger selection of the series and a description of the evolution can be found in the portfolio book The Wabi-Sabi Ikebana Series: A Study of Impermanence available on Blurb.com.

This work was made entirely from fingerprints, using PhotoShop. First a gesture is captured on a scanner. The result is used as source material to create new compositions, essentially fingerprints used as patches of paint. A short demonstration can be found at https://youtu.be/gtvzG3CJ2Rw
June 30th, 2017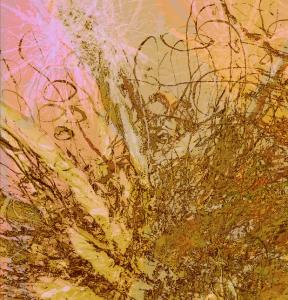 This work was inspired by the dramatic views at Fort Ross, along the northern coast in Sonoma County near Jenner, California.

After a short hike through weather beaten fields and forest, followed by an exploration of the lives lived at a Russian fort, I arrive at the enormous cliffs overlooking the shore, an overwhelming view. Once I've caught my breath, closer examination of the shore from above provides dizzying spectacles; impossibly bright colors and movement under the water evolve into abalone hunters surfacing to their rigs while their partners, mere dots from above, await on shore. Seaweed pushed and pulled by the tide, slaps enormous boulders engulfed by surf, then suddenly exposed. A short but treacherously steep hike down to the shore is rewarded with lush vegetation and a small peaceful beach. Dried out dead thistles stand as sentinels to all the comings and goings, while a marshy area hides some horsetail ferns, a personal favorite.

Having grown up in a colder climate with a different range of flora, I am enthralled when I see horsetail ferns no matter what stage of life. Early shoots just developing or old and leggy plants ready to return to the earth, looking at them transports me to another world. It is not surprising therefore, that the horsetail ferns I saw that day dominated my thoughts as I began this work.

My making process begins by scanning gestures (dragging my fingers over a scanner), which are the only source used to produce this work. As I collage the captured fingerprints together they turn into new objects, in this case the horsetail fern.